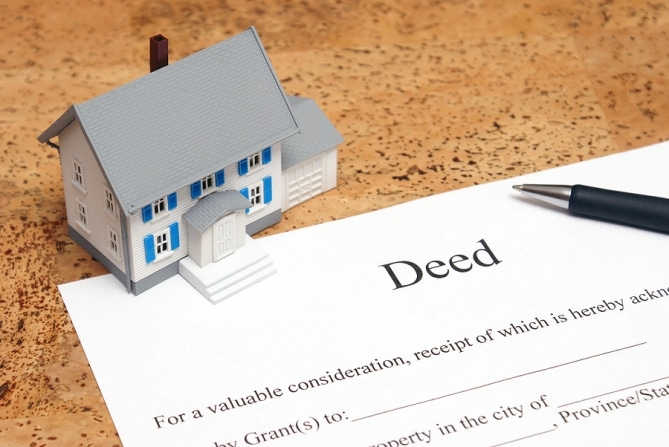 A deed is a legal document or an instrument by virtue of which, the property owner, also called the grantor, can easily transfer his/her right of ownership, called the title, to another person, called as the grantee. In order to enforce a deed it must abide by the following conditions:
It must state on its front page that it is a deed.
It should be accurate about the property for which it has been made.
It must be signed before witnesses.
It should be delivered to the grantee directly.
A deed may include certain limitations or promises, which are enforceable anyhow. It can be unilateral or bilateral and generally include commissions, licenses, patents, diplomas, etc., executed as a deed.
The Validity of the Deed
For a deed to be valid, it must get by the following:
The grantor must be of a sound mind and of lawful age of 18 years or above, otherwise, the transfer may be voidable. However, if the court approves the incompetency of the grantor, then the deed is considered to be void.
The deed must have clear information about the grantee so that he/she can be identified. In case of a number of grantees, the form of ownership must be specified.
A granting clause that expresses conveyance, with the intention to convey title, along with the type of ownership must be included in the deed.
The deed must also include a legal description to identify the property accurately.
Any encumbrances or deed restrictions must also be included in the deed.
Owners of the property including the spouses living in the state (due to which they got the homestead right), along with the witnesses must sign the deed.
The deed must be delivered either personally or by a 3rd party agent to the grantee. The date of transfer is considered when the deed was delivered and accepted by the grantee.
How can we help you?
No matter the reason as for why you need a deed, we can prepare it for you. Being the leading document preparation service in Orange County, we keep up to our image and accurately organize all the required paperwork to create a deed according to your requirements. We also ensure notarize your deed and properly submit it to the County Recorder.